SOUTHERN TRADITION, MEET NORTHERN RYE
This spirit, distilled through timeless liquor-making techniques, utilizes a three-grain recipe that infuses generations of Southern tradition with the spiciness of northern rye and a touch of malt for smoothness. FEW is hand-crafted through a small-batch process in charred oak barrels to age its bourbon whiskey.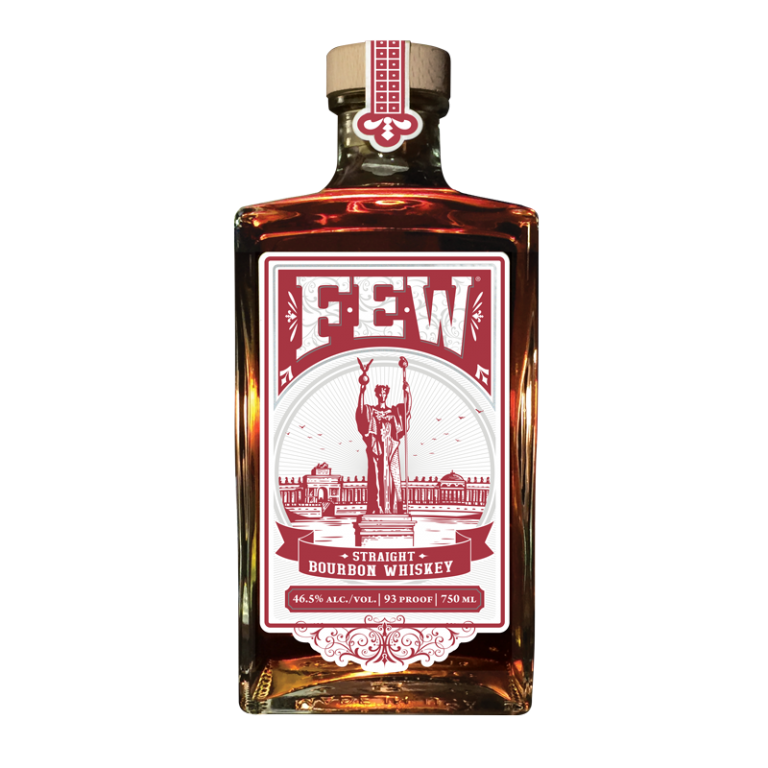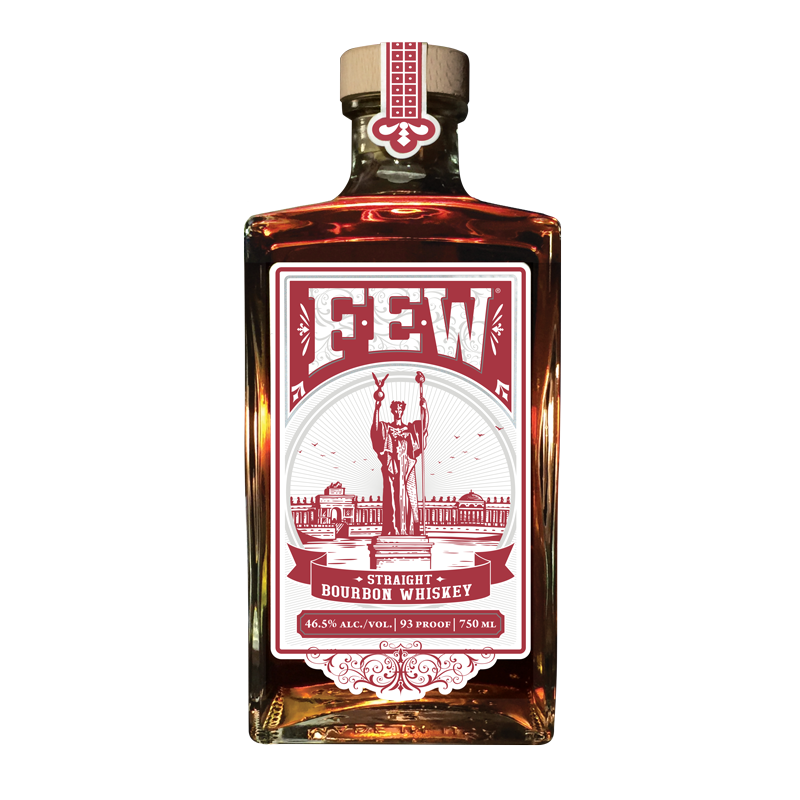 american straight whiskey
Whiskey fit for the spirit of the Republic
We start by hand-selecting a diverse and strong backbone of our award winning Bourbon and Rye Whiskey. We then incorporate unexpected notes from a rich yet balanced Malt Whiskey that has been imbued with Cherrywood smoke.
Approachable entry with graham cracker/honey on top and a savory rye spice below. Some tart cherry in the middle. A wisp of smoke rounds out the texture. Subtle white pepper and honey finish.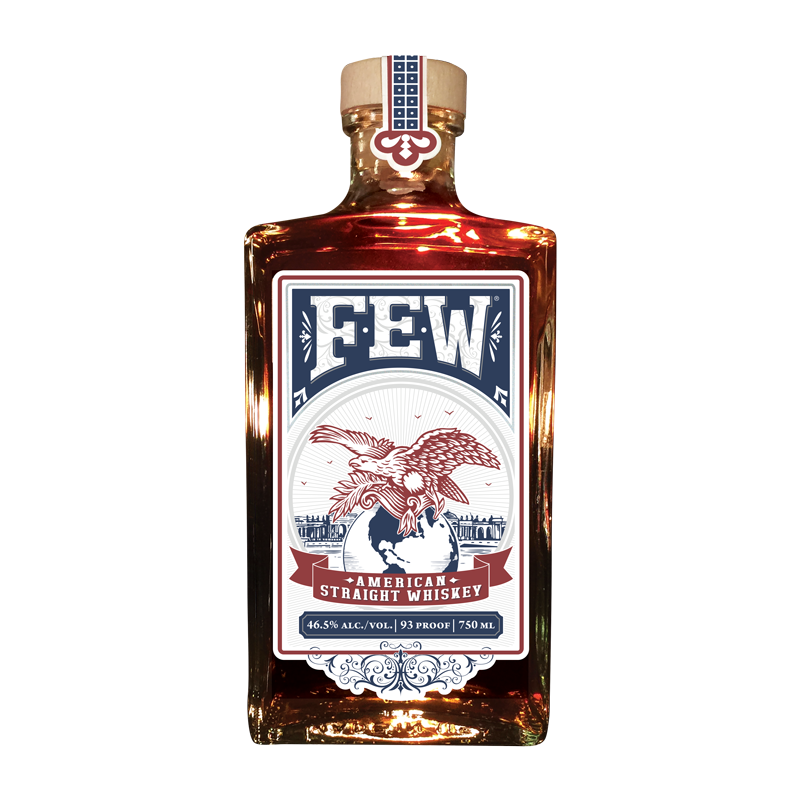 FEW brews up an eye opening new experience. Cask strength FEW Spirits Bourbon, brought to bottling strength using cold brew coffee. Cold Cut most definitely drinks like a whiskey despite a unique angle. Whiskey flavors dominate – but smooth cold brew delivers unexpected depth and a boldness that leaves you asking for a refill.
Cinnamon and clove with dark rich roasted notes. Smooth body and hints of coffee that build sip by sip. But never overpower our unique, bold take on Bourbon. Finish offers a soft and approachable profile that lingers on the palate.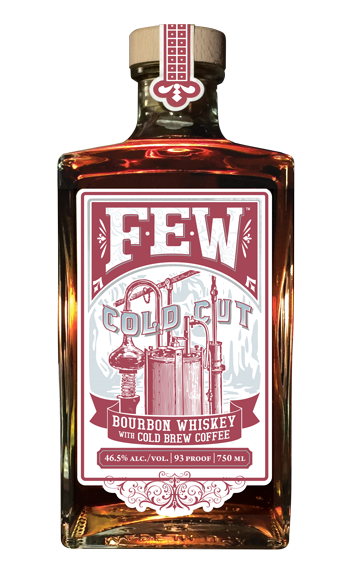 One malt to rule them all and in whisky bind them.
hints of smoked almond and honey on the nose. the texture and flavors are reminiscent of a perfectly crafted cappuccino, semi-sweet chocolate with a subtle smoke from cherry wood and oak. residual flavors of bourbon and rye round out this soft smooth dram.
100% malted barley. smoked with cherry wood rather than peat. only 500-600 bottles released annually worldwide.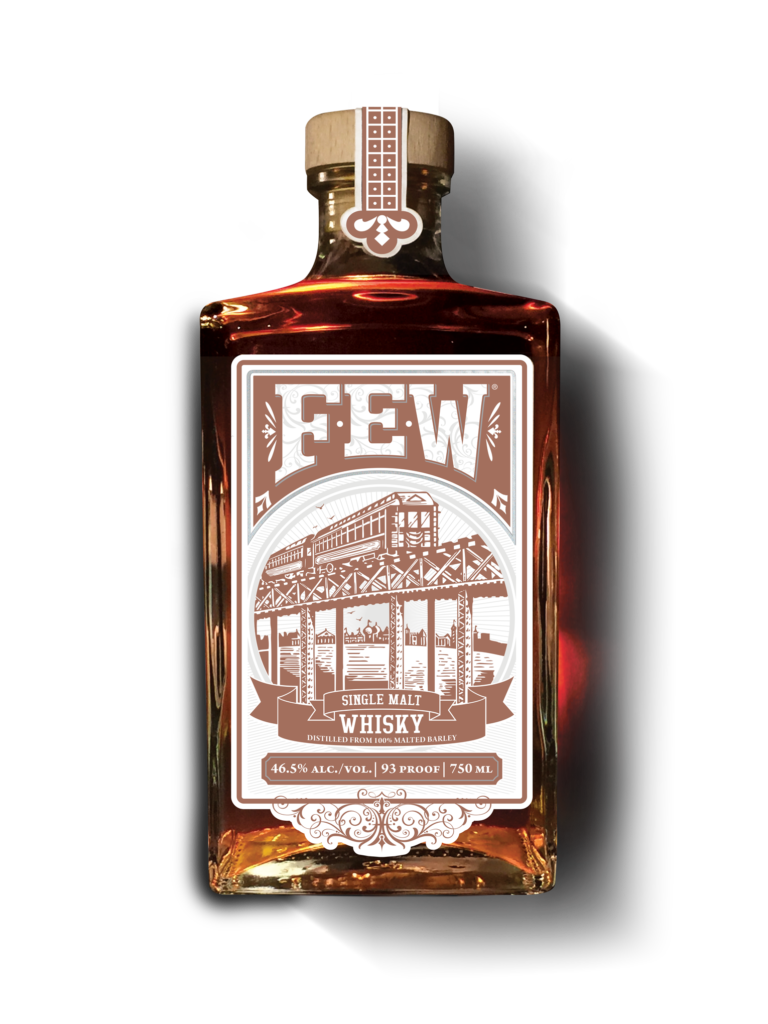 FEW revels in the atypical.  
WE TAKE OUR GRAIN-TO-GLASS, CASK-STRENGTH, award winning, STRAIGHT RYE WHISKEY AND BRING IT TO PROOF WITH COLD EXTRACTED 8 IMMORTALS OOLONG TEA FOR A RYE OF UNUSUAL DELICACY AND COMPLEXITY.  
THE SPICE OF THE LEGENDARY FEW STRAIGHT RYE FOLDS INTO THE FABLED 8 IMMORTALS TEA TO BRING AN OVERLAY OF PEACH, HONEY AND EXOTIC DRAGON FRUIT THAT IS OTHER-WORLDLY.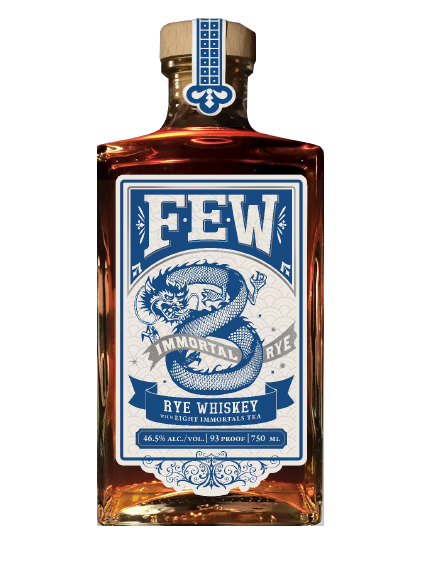 Aged for a minimum of four years and proofed to 50% ALC./VOL, FEW Bottled in Bond Rye was bottled under the strict guidelines of the US Bottled-in-Bond Act of 1897, which was essentially America's first consumer protection law and guarantee of quality. Featuring the beloved spice of our Straight Rye, this whiskey boasts notes of black cherry, vanilla, undercurrents of marzipan and bold aromas of stone fruit and oak smoke.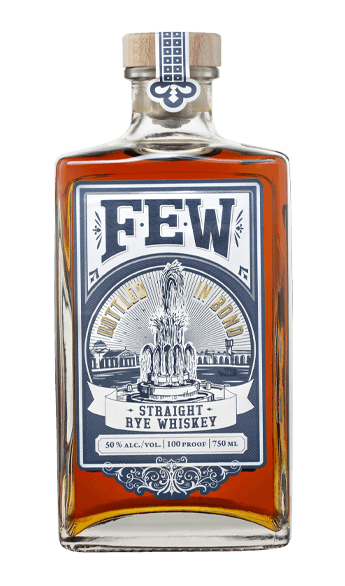 The 1893 Chicago World's Fair preceded the US Bottle-in-Bond Act by 4 years in 1897.  This whiskey is bottled under the struct rules of the Act, which was essentially America's first consumer protection law and guarantee of quality.  The release of this Bourbon coincides with the 125th anniversary of the passage of that Act.  Bottled at 50% ALC. / VOL., distilled in the same season at FEW, and aged a minimum of four years in American Oak in a federally bonded warehouse, FEW Bottled in Bond Bourbon features the beloved spice of FEW Straight Bourbon, with cherry, smoked vanilla, oak and caramel undertones.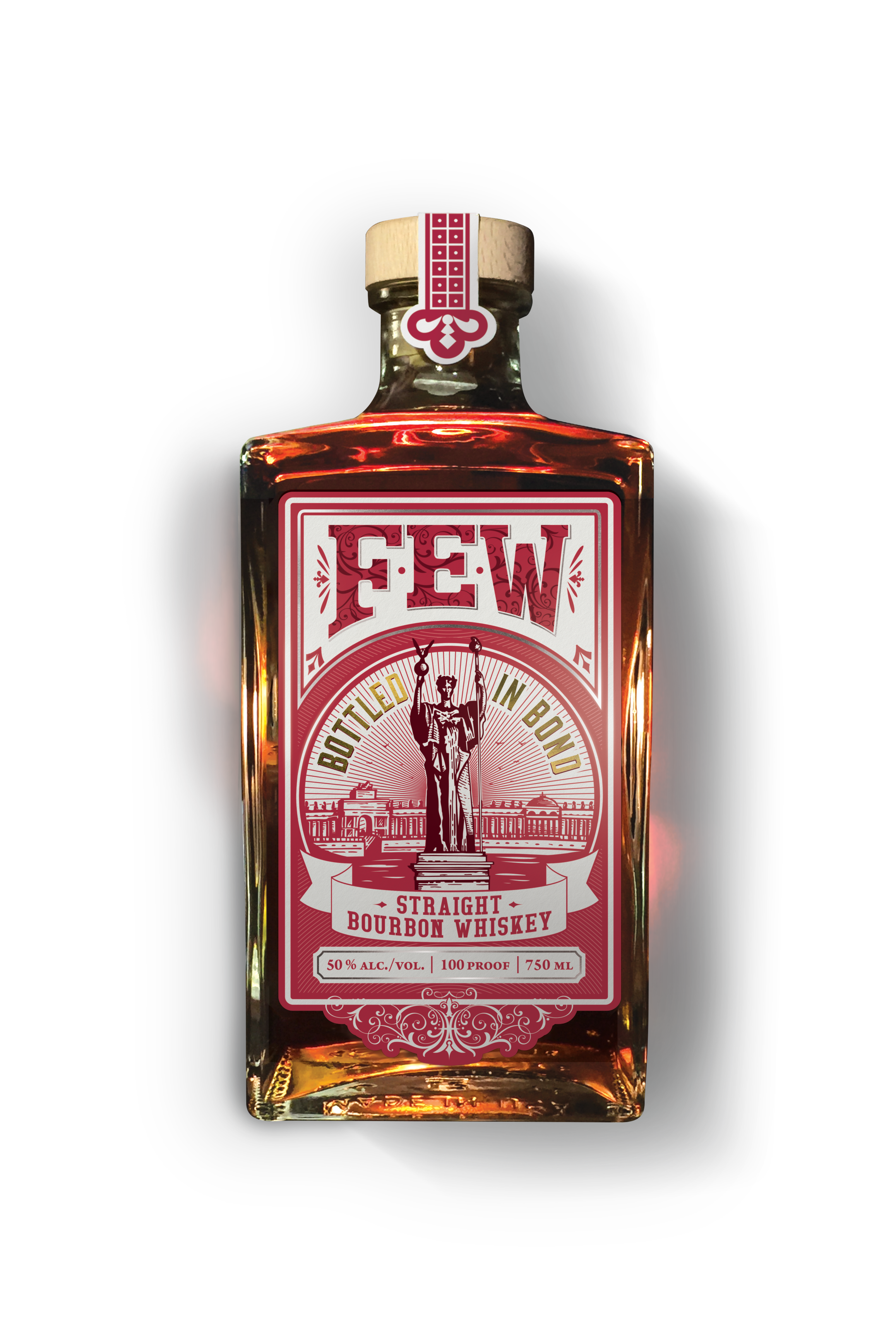 FEW Spirits & grunge icon Alice In Chains have collaborated to bring fans a rockstar whiskey experience… again. While the first release of this whiskey came in 2019, this year we only have an extremely limited amount of this delicious bourbon whiskey available. What is it? Our iconic FEW Bourbon has been finished in ex-tequila barrels for 6 months, and then is bottled at 50.5% abv, or 101 proof, to bring an edgy, limited, and unique release to whiskey and grunge fans everywhere. Called 'All Secrets Known', the bourbon gets its name from the band's popular 2009 album, 'Black Gives Way to Blue'. So, what's the secret with this bourbon? Crack open a bottle and see for yourself.
This whiskey's iconic label was designed by cover label artist Justin Helton at the request of the band.
This whiskey is full of the bold, sweet and spicy Bourbon notes that are the hallmark of FEW. The profile has grassy, agave undertones that accentuate the top notes of the Bourbon.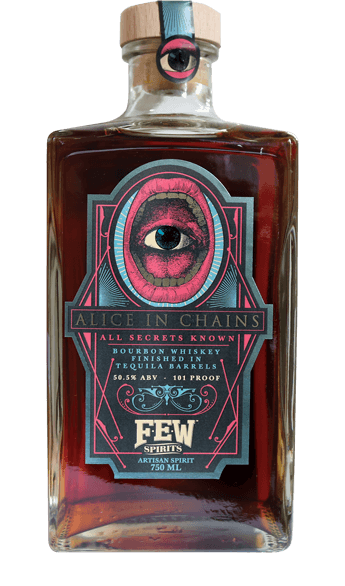 Celebrating 21 years of modern rock with the iconic Black Rebel Motorcycle Club!

When rock band Black Rebel Motorcycle Club was looking for a distillery to collab with, we jumped at the chance. Together, we created our own version of liquid art in a limited-release whiskey honoring the 21st anniversary of the band's seminal debut album, B.R.M.C.

Motor Oil is a blend of three whiskeys: FEW Bourbon finished in rum barrels, FEW Bourbon finished in vermouth barrels, and a mesquite-smoked wheat whiskey. The result is full-flavored and complex – grassy and sweet from the rum barrel; herbaceous, bitter and vegetal notes from the vermouth barrel; and heavy mesquite smoke that evokes winding back roads, long stretches of highway, and pit stops at roadside barbecue joints of West Texas. The blend was proofed & bottled at a very rock n' roll 101.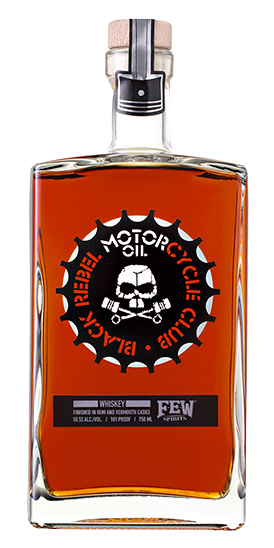 A collaborative Rye whiskey created by FEW Spirits and The Flaming Lips, Brainville Rye Whiskey is made from a combination of rye, corn and malted barley (Mashbill: 70% Rye, 20% Corn & 10% Malted Barley) grown within 150 miles of the distillery. The mash is fermented using a French wine yeast, said to give the whiskey a stone-fruit, apple and pear flavour profile. The liquid is subsequently aged in new, charred American oak barrels custom-made in Minnesota.
Presented in Few Spirits' signature rectangular bottle, Brainville Rye Whiskey will carry a psychedelic label designed by Justin Helton from Knoxville-based studio Status Serigraph. A release of 5000 bottles.